The Nokia XL is a fairly large and heavy phone but it has a relatively small 2,000mAh battery. While its dual-core Cortex-A5 chipset and its WVGA screens are not the biggest battery hogs, we're testing the dual-SIM version of the phone, which is bound to put extra strain on the battery.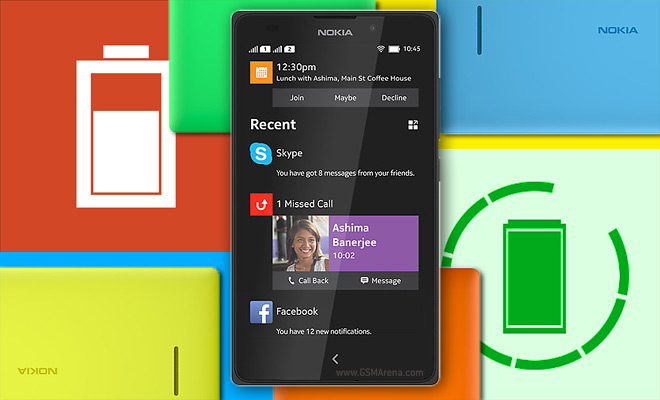 The Nokia XL's smaller siblings have 1,500mAh batteries so the extra 1″ screen size also comes with a 500mAh advantage.
Still, the Nokia XL was within half an hour of the Nokia X that we tested (also the dual-SIM version) and matched the Apple iPhone 5s almost exactly. Eleven hours or so is a pretty good result, considering the price range.
Note that while one SIM card is in a call, the other shuts down so it shouldn't harm the battery life and we've seen phones with 2,000mAh batteries do better.
Talk time
Samsung Galaxy Tab Pro 10.1 LTE

46:44h

Samsung I9105 Galaxy S II Plus

11:06h

HTC Desire X

11:03h

Meizu MX3

11:02h

Samsung I9500 Galaxy S4

11:01h

Apple iPhone 5s

10:46h

Nokia XL

10:45h

Apple iPhone 5c

10:18h

Samsung I9300 Galaxy S III

10:15h

Samsung S7710 Galaxy Xcover 2

10:03h

Samsung Galaxy Express I8730

10:00h

Meizu MX 4-core

10:00h

Pantech Burst

4:46h
The web browsing time surprised us – the Nokia XL lasted 12 hours, which is among the best results we've seen. Other dual-SIM phones are near the top too, the Sony Xperia C and the HTC Desire 700 dual sim.
Part of Nokia's plan for its entry level devices is to connect as many people as possible to the Internet and the Nokia XL will do an excellent job at it.
Web browsing
Sony Xperia C

12:45h

Nokia Lumia 1520

12:40h

Sony Xperia Z1 Compact

12:37h

HTC Desire 700 dual sim

12:30h

Nokia XL

11:54h

LG G2

11:22h

HTC One Max

11:20h

Sony Xperia ZR

11:20h

HTC Butterfly S

11:07h

LG G2 mini

11:02h

Samsung Galaxy Nexus I9250

3:01h
Web browsing is typically the heavier load on a phone, but Nokia XL's old chipset is fairly limited when it comes to video decoding. Video playback time was just over half the web browsing time.
We use an AVI/DivX video for the test and we guess a different container and codec combo might have drained the battery slower. The Nokia XL camera shoots 3GP videos so that may have been a bit better, but we can't think of a video service that offers movies and TV shows in 3GP.
Video playback
LG G Flex

19:57h

Motorola Moto G

6:37h

Nokia Lumia 900

6:37h

Meizu MX 4-core

6:33h

Nokia Lumia 620

6:32h

Nokia Lumia 625

6:29h

Nokia XL

6:28h

Sony Xperia E dual

6:27h

HTC Windows Phone 8X

6:27h

HTC Desire 700 dual sim

6:26h

Nokia Lumia 810

6:26h

Samsung Galaxy Ace Duos S6802

6:25h

Nokia Lumia 710

3:27h
The Nokia X had an uninspiring endurance rating of 38 hours, while the Nokia XL performed much better (especially on the web browser test) and scored a respectable 62 hour rating. Depending on usage, it will be 2-3 days between charges.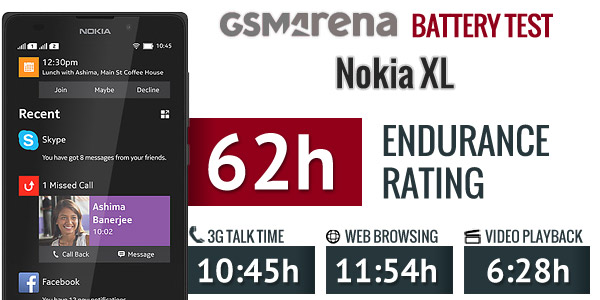 It's not as good as you might expect from a feature phone (and the Nokia X family targets mostly people upgrading from an Asha), but it's about what you can expect from an average smartphone. Nokia XL's modest price tag makes these results all the more impressive. Check out our
batter life table
, containing all the devices we've tested so far.