Is there anything we don't know about the Nokia's Android phone codenamed Normandy? We
already learned
its name - Nokia X, we know its specs too - a 4" WVGA display, dual-core Snapdragon 200 chipset, a 5MP cam, 4GB storage, dual-SIM, six different colors, stripped down Android 4.4 KitKat.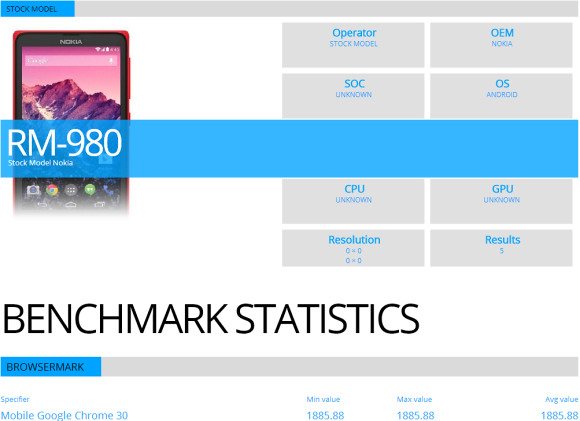 We saw the Nokia X leaks via
AnTuTu benchmark
. Today it has entered yet another benchmark database - the one of Browsermark 2. According to the submitted info, Nokia X's model number is RM-980 and its Chrome browser scores 1885.88 on the test.
Here is the Nokia X results compared to other popular smartphones.
BrowserMark 2
Higher is better
Sort by Label
Sort by Value
Galaxy Note 3 (S800)3041
LG Nexus 52745
Motorola Moto G2562
Samsung Galaxy S4 (S600)2438
Sony Xperia Z Ultra2419
HTC One2262
HTC One Max2243
Alcatel One Touch Hero2096
Sony Xperia C1984
Nokia X1885
Nokia Lumia 10201776
HTC Butterfly1475
According to the rumors, Nokia X won't be a Google certified phone, which means no Google Services including the Play Store. Nokia will reportedly provide its own application store, but the users will be able to sideload apps, too.
Anyway, Nokia X is expected to go official at the Nokia's
pre-MWC event
in Barcelona next month.
Source