Cellphone case makers often jump the gun on product announcements these days - the Nokia Lumia 929 is the latest phone to be exposed by one. It's the Armor Stand case listed on
Wireless Ground
that is specifically for the unannounced Lumia 929 and there are even images of the phone inside the case.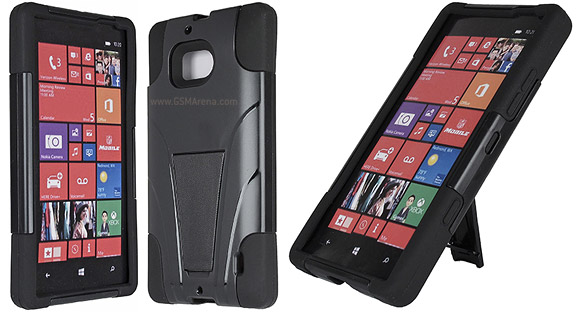 The Live Tiles on the home screen are arranged in
three columns
as opposed to mere two, which tells us it's a Windows Phone device with an extra large screen running the latest software.
Live photos of the Lumia 929 have
leaked
a number of times, along with even a video (now taken down). All the leaks so far point to a Verizon-bound device that is essentially a 5" smartphone version of the 6" Lumia 1520 phablet.
That means a 5" 1080p screen, Snapdragon 800 chipset and the trademark 20MP PureView camera. Unfortunately, there's no indication of when the device might be announced. The US-centric CES is coming in a couple of weeks, but Microsoft-Nokia will probably hold a separate event for the Lumia 929 announcement because in the recent years both companies haven't participated in the trade show.
Source
|
Via