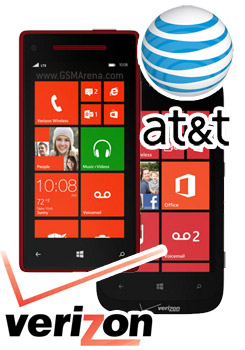 Windows Phone 8's race to the top in the US has officially started - the HTC Windows Phone 8X is available today from AT&T and is on pre-order from Verizon, who are also taking pre-orders for the Nokia Lumia 822.
Verizon has exclusivity on some HTC 8X features - ita model supports wireless charging like its key opponent, the Nokia Lumia 920 for AT&T. The charging mat is sold separately. Verizon's Windows Phone 8X also comes in exclusive colors - Black and Red.
The HTC Windows Phone 8X (16GB) from Verizon will
set you back $200
if you sign a 2-year contract and $550 if you don't. Verizon's web site notes that the HTC 8X will ship by November 13.
AT&T has the HTC 8X on sale already -
$200 with 2-year contract
, $550 without - and the carrier counters Verizon's exclusive features with an exclusive 8GB version of the phone, which is $100 on contract and $450 off contract (note that the 8X doesn't have a microSD card slot). AT&T has exclusive colors too - California Blue and Limelight.
Back to Verizon, the carrier will ship the Nokia Lumia 822 by November 13 and has priced it
$200 with contract
(2-years) and $450 SIM-free.
The GSM version of the phone - the Lumia 820 - is already on sale by AT&T, who undercut Verizon's prices
by $50
(both on and off contract). It has exclusivity on the Nokia flagship too, the Lumia 920, which also goes on sale today.
Source 1
•
Source 2
|
Via