The Nokia event in New York is in full swing and the second phone the Finnish
company
announced is the Nokia Lumia 820. It has a smaller screen than the 920 flagship and it misses out on a few of the cool new features, but should provide the same solid smartphone
experience
.
The Nokia Lumia 820 has a 4.3" AMOLED display of WVGA resolution (no HD, sorry), which features the ClearBlack
technology
. It does have the same super sensitive touch like the 920, which allows it to work with gloves, but misses on the PureMotion
HD
+ fun.
The phone uses the same polycarbonate unibody design and will have optional protective shells you can put on the back.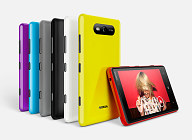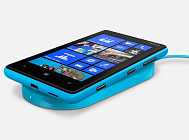 Nokia Lumia 820
The Nokia Lumia 820 will run Windows
Phone
8 (of course) and will be powered by the same Qualcomm S4 chipset as the 920, with a dual-core Krait
processor
clocked at 1.5GHz and 1GB of RAM at its heart. Nokia says it's up to 30% more power-efficient than "competing quad-core designs" (we assume it means the 45nm Tegra 3). For the record, teh 820 has a 1650mAh battery.
The Lumia 820 is compatible with the wireless charging Fatboy pillow (you need a protective shell for that) and it has 8GB of built-in storage (and 7GB of SkyDrive
cloud storage
). Unlike old Windows Phone handsets, the 820 has a microSD slot too, so you're free to expand that as you like.
What the Lumia 820 misses, compared to the Lumia 920 is the PureView camera tech, but it still has a Carl Zeiss lens and an 8MP sensor. The Lumia 820 will take advantage of the new camera features that
Microsoft
just announced.
The LTE connectivity is on board, along with the new and exciting NFC-based features of
WindowsPhone
8.
The Nokia Lumia 820 measures 123.8 x 68.5 x 9.9mm and weighs 160g. It will be available in several different colors.