Microsoft
is holding a press event today to give us a "sneak peek of
the future
of Windows Phone". Terry Myerson, VP of Windows Phone, took the stage and bragged that seven of the top nine phones in Amazon's marketplace are Windows Phone handsets.
But that's the past - Joe Belfiore took over to preview Windows
Phone
8. One huge change in WP8 is the shared core. This means that
Windows
Phone 8 shares the kernel, drivers, security, graphics and more with Windows 8. With it, devs for either OS can easily port their work to the other OS.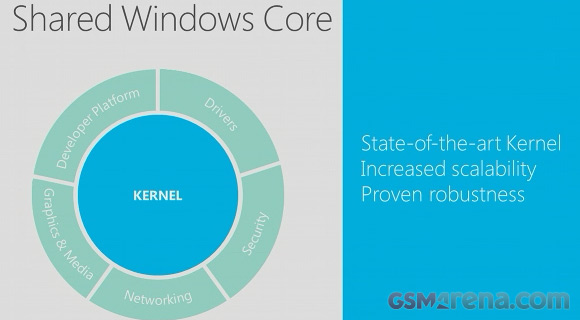 There will be 8 platform announcements based on this shared core.
Windows Phone 8 will support multi-core processors thanks to the shared kernel. For this fall, Microsoft will focus on dual-cores. Next up, higher resolutions will be supported - WVGA is joined by 720p (1280 x 720) and WXGA (1280 x 768). All existing Windows Phone 7.5 apps will work without modification on the new OS regardless of the resolution.
Removable storage is another highly requested feature that will be enabled with WP8.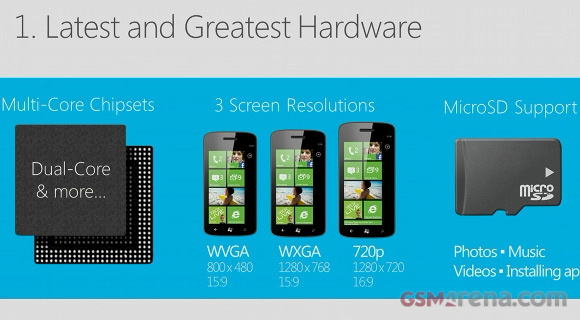 Belfiore also showcased a game, Marble Maze, on a Windows 8 tablet that runs with minimal modifications on a Windows Phone 8 handset.
Windows Phone 8 will launch with Internet Explorer 10, which borrows a lot of pieces from the desktop browser. JavaScript performance is improved and sites that work on the desktop browser will work on the phone too.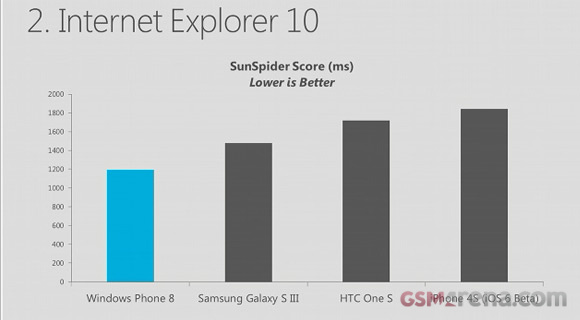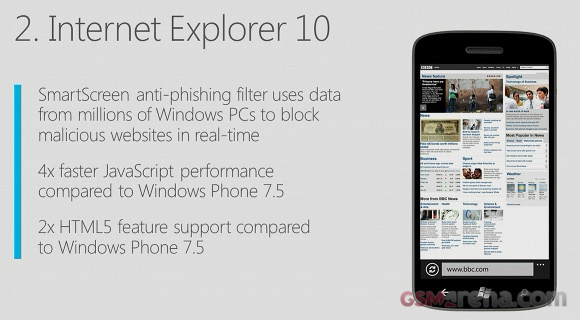 IE10 on the phone will share in some security features of the desktop browser - like warning users of potentially malicious sites. The HTML5 support is improved both in terms of features and speed.
Windows Phone 8 also makes the jump to native code apps written in C and C++ - which both improves performance and makes porting stuff like games written for Windows 8 RT to Windows Phone 8 a breeze.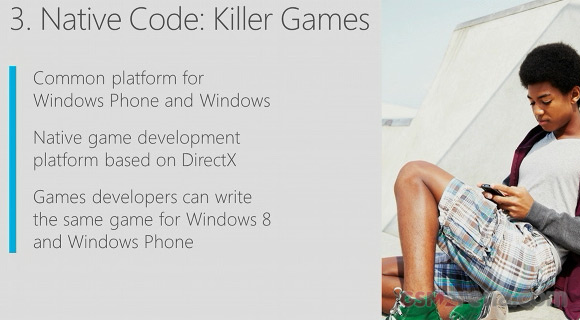 Microsoft will also compile all apps (WP7 and WP8) to speed them up. The developers don't have to do anything to benefit from this.
The new mobile OS will have full support for NFC too and will support 3rd party apps. This will allow your phone to replace a lot of things that you used to keep in your wallet (all WP8 phones will have the NFC hub). Microsoft bragged that their NFC wallet is better than Google's because the security is handled by the SIM card instead of the phone itself. The Wallet will debut on Orange France.
Yet another use for NFC is Tap-Send, which can be found in the share menu. It allows you to just tap two WP8 or Windows 8 devices to transfer a file between them.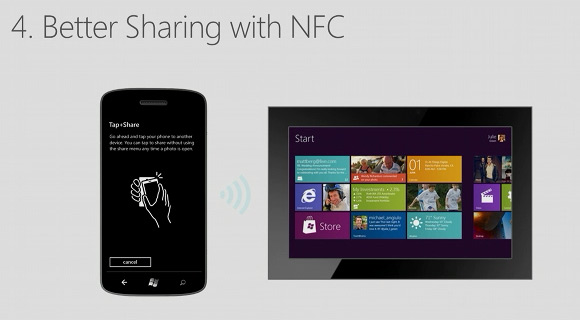 Wallet also features Deals (digital discount coupon codes) that are integrated Local Scout, so you can look for deals nearby. Deals can be found through web searches, handed out or acquired by third party apps. Deals can also be shared.
Wallet also handles buying apps and in-app purchases (which are new too). Wallet stores your credit cards and will ask you which one you want to use to pay. It will ask for a PIN code, which will prevent other people from buying stuff on your phone.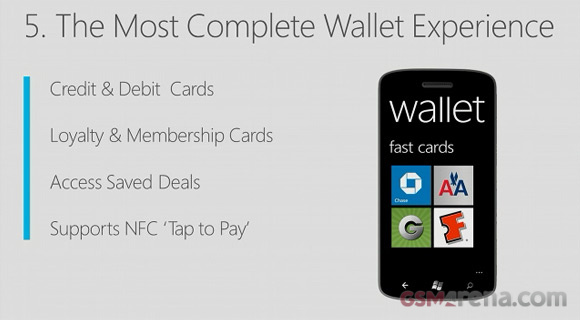 A handy use for NFC is business cards - Joe Belfiore showed how easy it is to add a contact to the phonebook using just such a card. NFC can also be used to easily start a multiplayer game between two users using Windows Phone 8 or Windows 8 devices.
As expected, Windows Phone 8 will use Nokia's mapping services. The map data can be stored on the phone, so you can use it offline. All third party apps can use Nokia's services, even offline.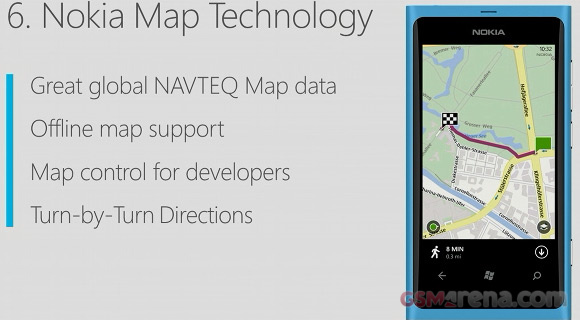 Windows Phone 8 will appeal to corporate users with secure boot and BitLocker encryption. It will also allow administrators to manage devices remotely and push apps to them, which will really make supporting company phones easy.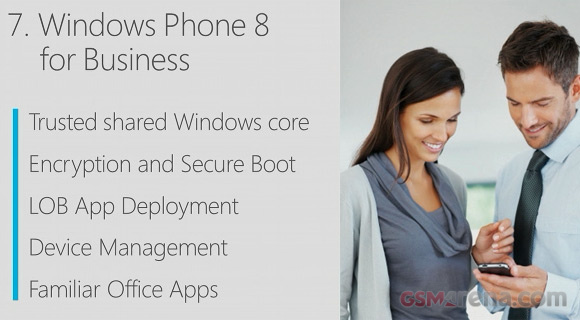 The final of the 8 platform changes is an updated start screen. It features new Live tile sizes - both smaller and bigger tiles are now available. And better still, the user gets to change the size of each live tile. WP7.5 tiles will work without modification on the new OS, just like apps.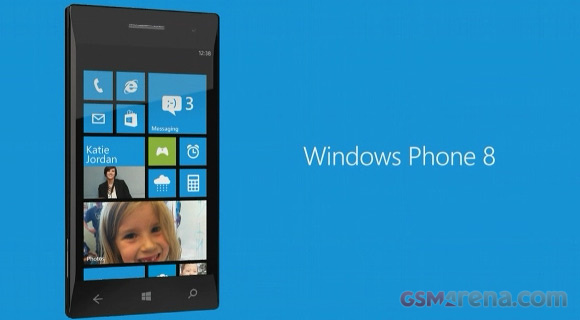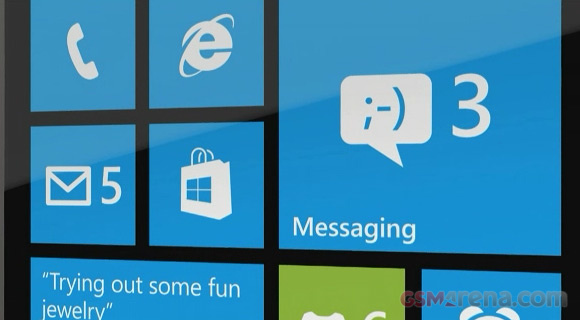 Changing the size of a tile will change the functionality it offers. There will be more colors to choose from for the live tiles too.
The improved multitasking of Windows Phone 8 enables seamless VoIP and video calls - e.g. a Skype call looks just like a regular phone call. Third party apps can use it too, not just Skype.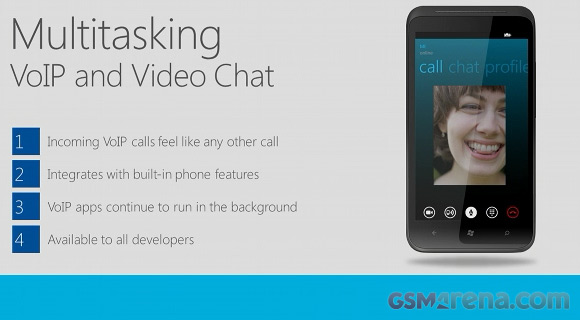 The multitasking-related improvements go on - location-based apps (like SatNav and so on) can work in the background even if you leave them to check a message, for example.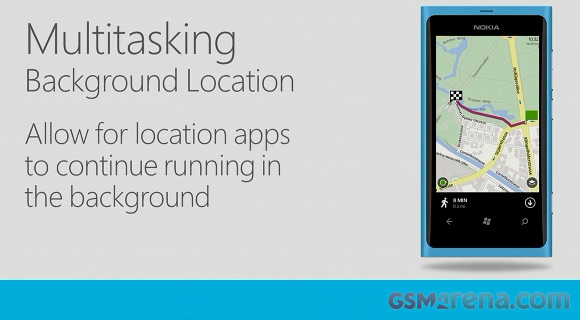 Windows Phone 8 will also compete with Apple's Siri. One app, called Audible, can be controlled with speech commands like playing an audio book, searching and more. Unlike Siri, third party developers can easily hitch a ride on Microsoft's speech platform and add voice commands to their apps.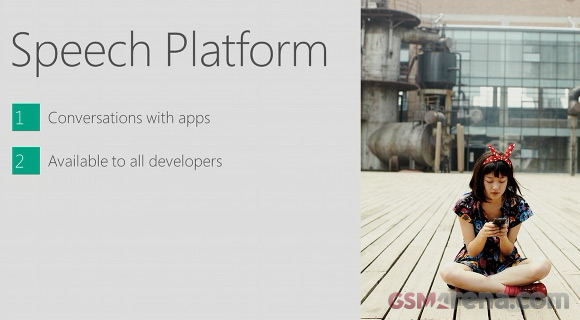 By the way, Audible will be available for WP7.5 phones later today.
Microsoft has another business-oriented feature - the Company Hub. It will allow a company to highlight apps specific to the company itself to make them easily accessible to its employees.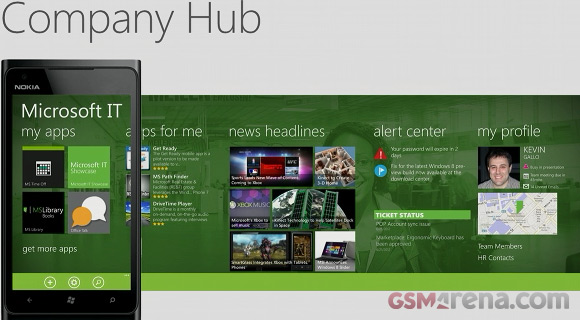 Upcoming Windows Phone 8 devices will be built by Nokia, Samsung, HTC and Huawei built on a Qualcomm platform. You've probably noticed that LG is not on the list.
Unlike WP7, WP8 updates will be distributed over the air. Microsoft will support every WP8 device for at least 18 months.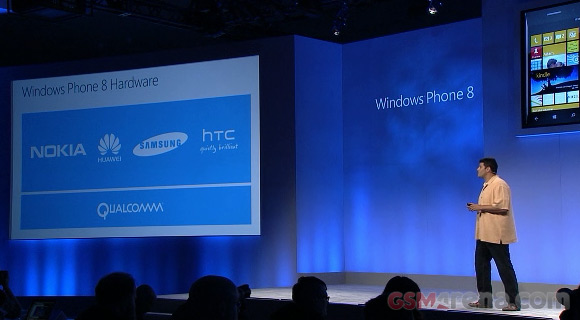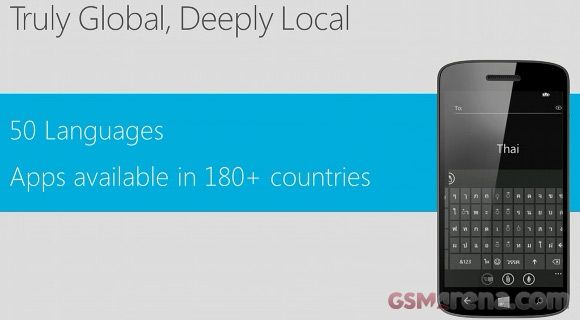 You can watch the event as it happens live:
Developing story, stand by for updates!