Nokia has just announced it is going to launch the white model of the
Lumia 800
smartphone later this month in addition to its already available black, cyan and magenta editions.
The "beautiful, dazzling, glossy, snow-white" Lumia 800 will start selling later this month in the UK, Germany, France, Italy, Spain, Netherlands, Scandinavia, Finland, Poland and Switzerland. More countries will follow soon after.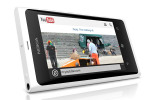 White Nokia Lumia 800
According to Nokia, this is the same awesome white the N9 uses.
"This is no spray-on finish. Like the other Nokia Lumia 800's colours, the unibody polycarbonate is dyed all the way through and milled like metal to give it the high-tech feel."
Now that you know a white Lumia 800 is coming as well, would you reconsider buying one?
Source