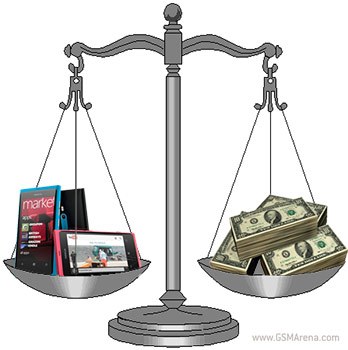 It's Nokia's turn to sum up its
financial
Q4 and we finally got to learn more about the market performance of the Lumia smartphones. As it turns out the sales aren't too bad, but the company still lost a huge amount of
money
in the holiday quarter.
In what Nokia described as very solid
performance
, the Lumia duo sold "well over 1 million" units, which is less than the 2 million targets, but better than the half million predictions of some analysts. You should keep in mind, though, that this number includes Lumia
sales
until today and not just in Q4.
A million sales is hardly enough to justify everything that the
company
went through after it announced its major change of strategy in February, but it's still a start and hopefully things will only get better from now on.
Also, Nokia finally started receiving the subsidy that was put in its contract with
Microsoft
when it started making WP smartphones. The company got $250 million this quarter and will be looking for much more in the future, if reports of a deal worth north of $2 billion are to be believed.
Still, according to the IFRS numbers (IFRS is the international standard for such reports), Nokia lost €954 million (about $1,260 million) this quarter alone or a total of €1,073 million ($1,413 million) for the whole 2011.
The company experienced year-on-year decreases in almost every one of its
businesses
, including the total number of phones sold. Average selling price also went down, so we can hardly attribute to the transition to
smartphones
alone.
Things are looking a little brighter if you compare them to Q3 of 2010, but the holiday season is bound to
lead
to some increase in sales.
So, Nokia obviously got their start in the WP game, but the verdict is quite clear - they need to step up their game. Of course, it would be nice if Microsoft did its part, too and brought the platform up to speed (multi-core support, FullHD video and higher display resolutions immediately spring to mind).
If you can't get enough of those numbers, you might want to follow the source link for the complete Nokia Q4 and full 2011 report.
Source