Sigh. There's some gossip on the Internet of photos and specs for a Nokia X2-01, which is a lot like the Nokia C3, but it's obviously positioned even lower. Yes, we're as confused as the rest of you.
Anyway, the Nokia X2-01 is an S40 phone with a hardware QWERTY keyboard that is indeed very similar to the Nokia C3. It's 2G-only, with 2.44" QVGA landscape screen (not a touchscreen like the C3-01), microSD card slot, FM radio and Bluetooth.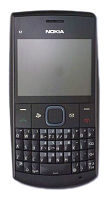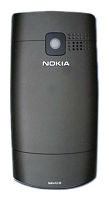 Nokia X2-01 looks a lot like the Nokia C3
The camera has grown to 3MP (C3 had a 2MP snapper) and yet there's no mention of Wi-Fi (which the C3 did have). The Nokia X2-01 has two dedicated keys - one for music and one for messaging.
Of course, those are rumored specs and the official specs might be different. But the C3 is already dirt cheap, how much cheaper can the X2-01 be with the Wi-Fi module taken out?
Anyway, we'll have to wait for the official specs to confirm all this info about the X2-01.